*Blinks* I still can't believe, it's such a nice, full of surprises day! I'm sooo proud to announce that my idea of a heel design won and a gorgeous pair of
Shoenique Designs
heels now bares my name!
My idea for the heel design was to create a pair of simple heels that would look like a mens tie, I IM'd one of the very kind Managers of The
Shoenique Designs
and gave them my idea...but how shocked was I when I saw the winner notice. I still am. Hehe.
This heel is unique like all SD creations and it's not expensive at all! I know you ladies love shoes, so why not go and check SD out now? :)
In this post I'll use the original image of the Heel that was done by SD designers because it's hard for me to take a snap that'd actually show how original, elegant, stylish and sexy these heels are.
Ok ok, enough talkin, I present you
TOYA TIE HEELS
!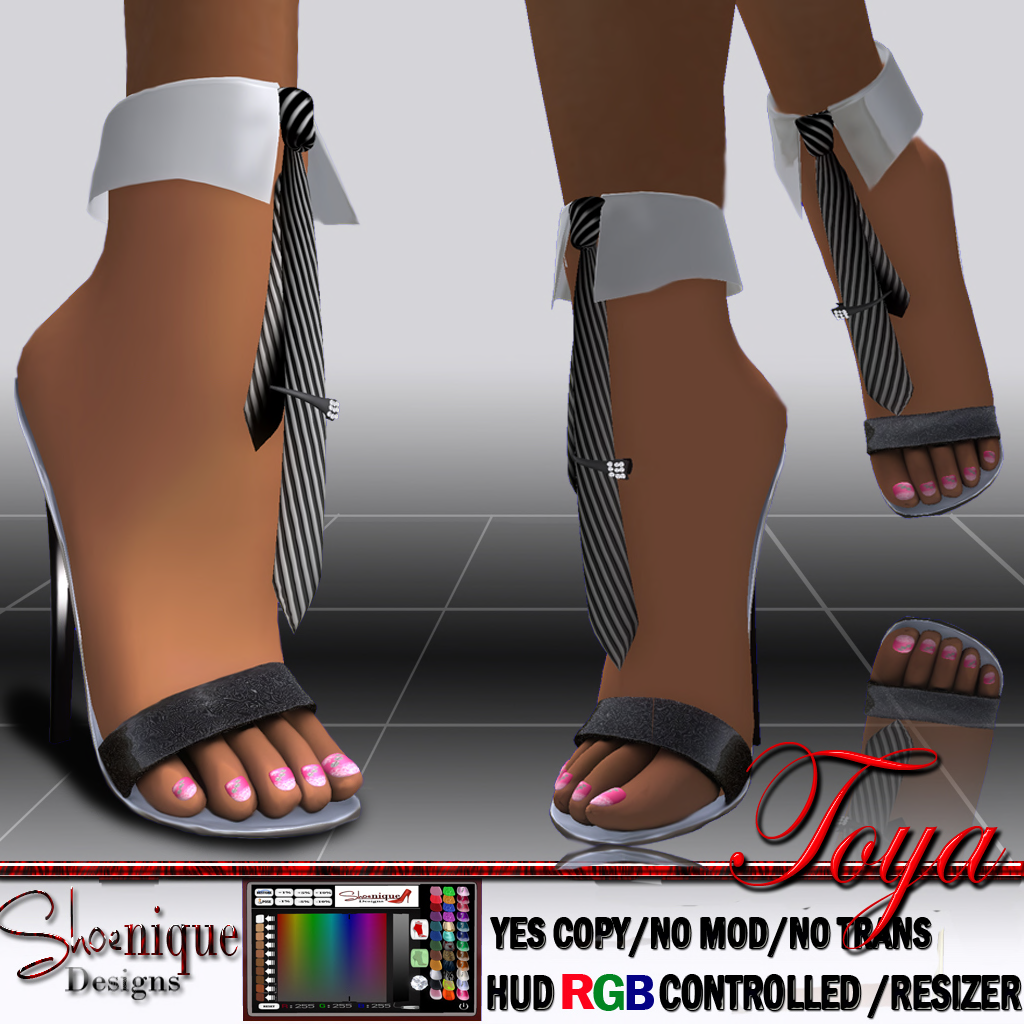 The heels come with a hud that's very easy to operate, you can easily apply your skin RGB, change nails and gems colour as well as nail design and of course resize.
Here I am presenting Toya Tie Heels, but as you can see it's not very visible on this picture.What is Toya wearing:
Skin:
Lara Hurley - Antonia bronzed dark
(posted in previous posts) (Not free, 800L)
Hair:
A*S Party Hair 001(Marmite)
(It was free but not there anymore, tho there are new free hair and skins and clothes and what not!)
Here!
Top:
Emery - Top Misery Business #Pure
(175L)
Here!
Collar with tie
:
Lucky Gift - The Student Top Fuschia
(part of the top) Free in lucky chair,
Here!
Jeans:
Narwhal - Dark High Waist Jeans
(195L)
Here!
Make up
:
(Ag) Stained Face - Cherry Tart(w/beauty marks)
Free
Heels! :D
**SD** Toya Tie Stiletto Heels
(250L only!)
Here!